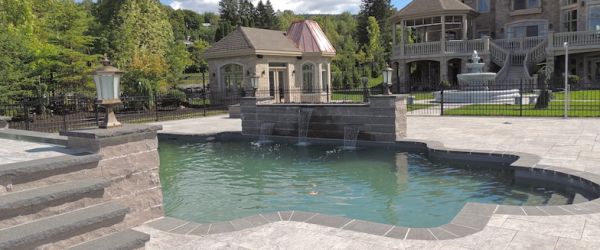 Lanscaper Series Explore Your Options - Poolside Fun!
BLOG #2 SERIES - EXPLORE YOUR OPTIONS
Offering valuable outdoor living spaces that families and friends will enjoy for years, decks and patios give new meaning to the sentiment "home is where the heart is."  By taking the comforts of home outside, a well-placed deck or patio can serve as your home's crowning touch and increase your property value. Whether you choose a poolside patio oasis or a multi-level deck to accommodate get-togethers, Conception Horticole du Nord can help you turn your dream into a reality by leading you through every step of the process.
POOLSIDE FUN
Distinguished by soothing, crystal clear water, swimming pools and spas beckon. But it's what you do with the area around the pool and spa that truly adds impact.
Pools are natural gathering places in the summer. While the water certainly has appeal when temperatures soar, be sure to think beyond the pool to the surrounding area as well. Much of the fun of a pool is what happens around it:  relaxing near the water without leaving the comforts of your yard and home, watching the kids splash on a hot summer day, and enjoying a lazy evening after a busy day of swimming.
As with any outdoor room, consider your needs as you develop a plan for the best poolside deck, patio, or combination for your family. Expansive decking right up to the pool accommodates kids who will jump in and out of the water for much of the day. Inside a shaded area nearby for adults to supervise without getting wet. If your pool will see more use from adults swimming laps or taking a quick, calling dip, consider a narrow swath of decking adjacent to the pool coupled with a deck or a patio with furnishings suitable for outdoor dining and conversation.
Pool water cascades over a granite retaining wall into another narrow pool below. Boulders and the surrounding deck create visual interest. Ample seating that accommodates friendly gatherings and personal space gives this poolside patio a relaxed atmosphere. For added comfort look for cushions made from waterproof fabric.
Need more inspiration? Dive into some cool poolside designs with some of Conception Horticole du Nord's design galleries, and look out for our next blog in this series "Quiet Retreats."